[X] Follow system for days of the week corresponding to where efforts should be prioritized and what should be top of mind.
I think I did a pretty good job this week for following this system. I am going on a trip up to a cabin that is close to Suring, Wisconsin. So that pushed up things a little bit, but it went well otherwise. I have a chance to unwind, relax, and plan this weekend. That's a good thing. I don't always do that enough. I think this upcoming weekend I'll mess around with concept UI/UX for how things should look. I will also adjust my to-do list to reflect the feedback that I have received so far. Neither one of those things requires an internet connection or cell signal.
It's worth mentioning that I will be changing my system for what I prioritize each day of the week. Earlier this week I had a chance to sit down with an influencer and the influencer has agreed to help me work on the pricing tool. His built-in audience will make short work of getting it out there in front of people. Based on that, I don't think I need to concentrate so much on all the other things I have been doing besides development. What most people fail to realize is that getting a software company off the ground takes lots of work. It's not just about the software. However, now I don't have to worry as much about how to get feedback and my software in front of people. With another person onboard, I can focus on the product. So now is a good time to pivot what I do or think about each day of the week.
Tuesday, Wednesday, Thursday - are all about development.
Fridays are now about finalizing agreements and paperwork. Sometimes I forget how hard it is to get a hold of lawyers, accountants, etc.
Mondays are now about maintaining momentum. This past couple weeks I've got people who have had a chance to use the pricing tool and give opinions. It's difficult to keep people involved and that's why I want to dedicate a day to this. Momentum of an idea/project/product is always hard to maintain.
New weekly system:
Sunday - Dev/Plan, Monday - Momentum, Tuesday - Dev, Wednesday - Dev, Thursday - Dev, Friday - Finalize, Saturday - Dev/Plan
[X] Publish blog each week of decisions made, execution, and analysis.
I'm publishing this much earlier because of the upcoming trip tomorrow.
It's difficult sometimes to justify your actions to others who don't walk in your shoes.
That was a thought that crossed my mind yesterday.
I have an oddly people centered approach to what I do. It just makes what I do so much easier. When you approach things like this - it just makes everything easier. Only time will tell whether or not it pays off for me in the long run. That is my hope. So far it has helped me build momentum.
[X] New meetup, conference, or public outing event every week.
I almost thought I dropped the ball on this one. Then I remembered I organized a meetup this past week. That definitely counts since it was the first meetup. It's a meetup for indiehackers where people just show up and talk about what they're working on. It's basically just people who talk about the software they're trying to get farther along.
One suggestion that arose from that meetup was that I should have a way to repeat a search that is done frequently for pricing. The example was for a store owner who may lookup gold bullion or coins frequently to see how the price has changed. That seems like a reasonable suggestion and I'll have to keep it in-mind.
[X] Share more through multiple channels (very publicly), and don't hesitate (that's inaction).
I think this has started to pay off. I get a hold of people I'd never get a chance to talk with. Next week I even got a call scheduled with a guy who I randomly interacted with on Twitter. The internet is an amazing place that is primed for serendipitous moments, but people fail to realize that. The people you see on your screen are real people and you can actually reach out to them if you have the inclination. It's amazing where this may lead.
Some of the things I will be prioritizing this upcoming week:
-Login system implementation
-Filters for searching
-iOS deployment & compilation
Here is a look at where things currently are with what I'm working on: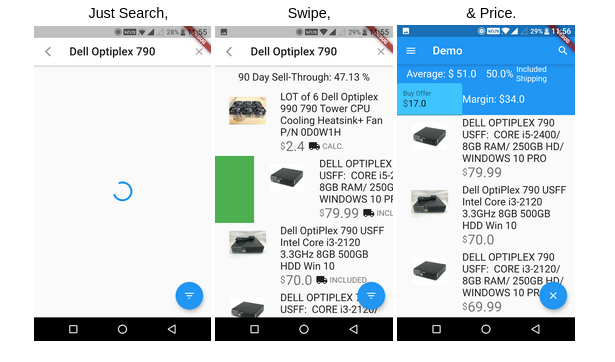 If you are a person who would be interested in being a tester then please don't hesitate to reach out. This would be useful for anyone wondering what their old stuff is worth. Just leave a comment wherever you saw this posted.
One very long session with a tester has resulted in a very nice drawing of suggested flow and visuals. It's really great to see people get involved with this. This is what momentum sometimes feels and looks like.